Summertime is a great time to work on reading skills. Students can take advantage of those long days and gain ground in reading comprehension while relaxing in the backyard or on the couch.
Many students, however, suffer from learning disabilities or difficulties in reading that make reading for fun hard or stressful. As a result they may prefer to avoid it altogether. That's why we searched far and wide to find books that your middle or high school student will actually want to read over the summer.
We looked for books that are considered  high interest and easy to read  (also known as High Interest-Low Vocabulary books) that students in grades 7-12 , especially those with difficulties in reading, would enjoy. 
Please note that we've listed most of these books with their Reading Level (RL) and Interest Level (IL) to help you make a choice suited to your student's needs. Both levels are numbered based on the approximate equivalent grade level. For example and RL of 4 would be a book written at the reading level of someone in Grade 4.
Interest level (IL) is simple. It tells parents what grades the plot, elements, themes and so on are best suited for.
1.  Various Titles by Burton Goodman
Goodman specializes in drawing readers into his books and includes engaging stories at 10 different reading levels.  The books also include discussion questions that help readers improve their understanding of texts, helping them when they have to write literature reviews or essays.
Goodman adapts well known stories by some great authors and will hook your reader with tales of adventure, daring and suspense.  
RL = various/ IL = various
Make sure you check out:
2. Chronicles of Narnia by C.S. Lewis
This series is one of the most beloved in literature. In this series of seven books written by acclaimed author C.S. Lewis, several children (boys and girls) flee the devastation of World War 2 England to an enchanting realm where they get caught up in a battle of good and evil. Featuring epic adventures, betrayals, heroic deeds, intriguing characters, acts of valor and loyalty, there are enough surprises to engage most readers and can be explored on a number of levels.
 Although it is a bit tougher than some of the other books in this list, there are many different levels of meaning to explore.  This series has been capturing the hearts of adults as well as children for decades.
RL = 5/ IL = 5-10
3. Running for Dave by  Lauri Jamison
This is a story about a boy whose best friend, a track star, is suddenly stricken with cancer.  The story focuses on what he learns about life from this experience.
Easy to read, this book carries a positive and inspiring message for students while dealing with real life issues. It's a relatively short story at less than 100 pages, and is written in the first person, which allows it to grab the reader's attention and connect with them on a more personal and emotional level.
RL = 3/ IL = 6-10
4. Truth by Tanya Kyi
When a neighbor is murdered at a high school party, no one will call the police to report it.  Jen, a high school reporter, must decide if she will risk it all to find the truth. This book does a good job at exploring a number of real life issues, such as teenage relationships, friendships, behaviors and influences.
Being a high-school murder mystery, this book should grab the interest of students due to its dramatic and exciting plot. At just over 100 pages, it's a pretty easy read and is great choice for reluctant readers.
RL = 3/ IL = 7-12
5. Terror 9/11 by Doug Paton
This story is a tale of a teenage brother and sister who survive the World Trade Center disaster and what happens to them afterwards.
Short and easy to read, the gripping and suspenseful first person narrative keeps readers consistently engaged. Written from a teenagers point of view, the book deals with a horrific period in American history without over-simplifying  the event.  Despite this, however, it is written in a way that isn't very disturbing and, in fact, reads almost like a historical novel.
RL: 4/ IL = 5-10
6. Caught in the Blizzard by Paul Kropp
Teenagers in the Arctic must deal with their rivalry and personal conflicts to survive a blizzard that threatens their lives.
The importance of setting aside personal conflicts and differences to come together and solve a common problem is an important lesson for teenagers to learn, and this book does a good job of conveying that message. Despite taking place in the Canadian Arctic, Kropp touches on issues common to many teenagers, including teenage crushes, dealing with people from different cultures and personal rivalries.  Overall, the story combines action, suspense and teenage romance into a quick-paced, engaging read (85 pages).
RL = 3/ IL = 6-10
7. Avalanche by Paul Kropp
A group of teenagers are caught in an avalanche during a school hike in British Columbia, but will everyone make it out alive?
A solid book, it is similar (though very slightly longer) to Caught in the Blizzard. Also based in Canada, this story touches on issues and decisions that teenagers everywhere have to come to terms with. A suspense story, your teen might have a hard time putting it down!
RL = 3/ IL = 6-10
8. No Easy Answers by  Donald R. Gallo
 This is an anthology short stories involving teenagers facing tough choices.  From drugs, to cyber-bullying, peer pressure, unwanted pregnancy, guilt and atonement- this book looks at the problems our kids face and examines the moral choices they must make.
Not only does this book resonate with some students, but unlike many books for teens, it explores situations where the protagonist doesn't make the "right" choice and has to deal with sometimes difficult consequences. 
As each of the 16 stories are short and varied, there really is something for everyone.
RL = 4/ IL = 9-12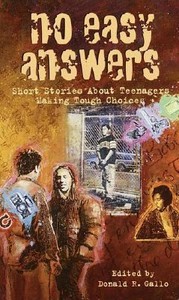 9. Clara and the Hoodoo Man by Elizabeth Partridge
This is the story of Clara.  When her sister is near death, Clara seeks the help of a herbal healer who her mother calls a hoodoo man.  
Taking place in rural Tennessee at the turn of the 20th century, this book is a bit longer than most on our list but is an interesting period piece and explores a number of interesting issues from that particular time and place, including poverty, the African American rural experience and complex family relationships. The novel touches on a number of issues and themes but is written in an approachable and understandable manner.
RL = 3/ IL = 5-12
10. The Trouble with Perfect by Mary E. Ryan
Kyle believes that he is hopeless in math and he is tempted to cheat to please his demanding (and hard drinking) father and live up to his basketball star brother.
This book is, like Clara and the Hoodoo Man, slightly longer than other stories on this list. It's still written in an easy to read manner and deals with  real-life issues students can relate to, such as winning over a crush, expectations and self-esteem, difficult family situations and the importance of loyalty and friendship. There is much for a student to identify with and this book should keep them engaged throughout.  
RL = 3 / IL = 6-12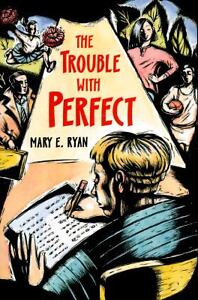 One final tip:
If your student really has a hard time reading, consider also listening to books on  tape (well, CDs and MP3s).  They may not  be as good at helping your student with their reading but they're a great way to let them enjoy the same books their friends are  enjoying and, at the very least, might spark their interest in literature!  
All book images courtesy of Amazon.com and Ebay.